Friday, March 25, 2005
Commemorating genocide or advancing national agendas?
Addressing Armenian hypocrisy is not an easy thing, especially when the person doing it has Armenian ancestry somewhere along the line. You will get attacked, called a genocide denier, a sell-out to Turks. And this from both sides of the spectrum, the left and the right (not that there ever existed an Armenian left).
I have criticised a group of "alternative Armenians" (who claim they're not like the rest of the Armenians -- but I beg to differ) for subscribing to a flag-waving mania. Those people believe that there is nothing wrong in having an ocean of Armenian flags during a genocide commemoration ceremony or a vigil. On numerous demonstrations in favour of the recognition of the Armenian genocide, Armenian flags were the dominant theme.
For example, this one in Belgium: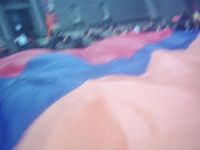 This one in the Netherlands:
The 90th anniversary of the Armenian genocide is in sight. I am afraid we will have to ready ourselves for yet another ocean of Armenian flags. Now is the time to ask ourselves: what does the Armenian flag have anything to do with the Armenian genocide? Isn't it a shame that we honour the dead by waving flags? Is that all we can do? Isn't it a shame that we turn a human tragedy into a national agenda?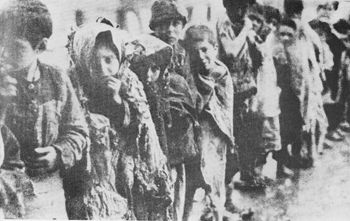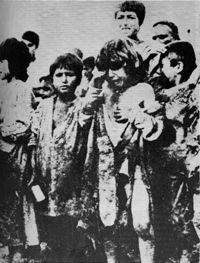 I will tell you what, don't wave that flag in my name or in the name of those who died at the hands of mass-murderers. The victims and survivors were real people with families, individual stories, losses, and your flag-waving is, at best, insulting to me and many others whose great-grandparents perished in the genocide.
Comments:
But at the same time, there are loads of countries that don't acknowledge the Armenian genocide.
"Israel" being one of them. Isn't that ironic...
I don't see how denial of genocide would cause people to be overly nationalistic. It makes no sense. At least not for me.
Those people who died did not represent the Armenian government, nor the country. They were in historical Armenia yes, but they were also part of the Ottoman Empire..
Some people tell me that waving the flag would enable passers-by to tell who's protesting and for what. What a lame "justification" that is. First of all one does not need to be Armenian to protest against the denial of the Armenian genocide. Nationalising a tragedy might serve nationalistic agendas, but it is offensive to those who have lost loved ones, and it also alienates outsiders who are supportive of the cause of recognition of the Armenian genocide. The recognition of the genocide is not a purely Armenian one (or at least it should not be). It is a human/e and international one. But leave it to some flag-waving nutcases to take the whole thing wayyy out of context.
The same applies, by the way, to "Israelis" who wave "Israeli" flags in concentration camps (I have tons of pics of those).
Post a Comment
<< Home