Saturday, March 26, 2005
The UN continues to whine about Hariri probe, but ignores the situation in Lebanon
The UN keeps stirring the pot along with its buddies USA and Israel, and in the meantime a new explosion rocks Lebanon. The exposion occured in the "Madine Sina3iyye" (industrial area) near Dikweneh, a "Christian area".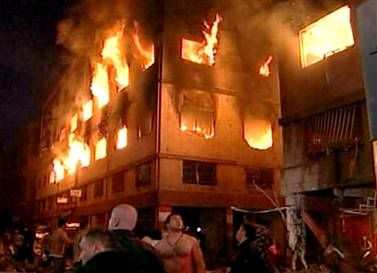 What I don't understand is why only Christian areas are being targeted... The opposition claims it has the support of the Druze and Sunnis, in addition to the Christians. So if the culprit is Syria, I don't see why they would only target Christians or Christian areas. It makes no sense.
Comments:
I just watched BBC, and they said 2 foreign workers have died in the blast... The thing is, it's obvious that Christians are not being targeted per se. The bombs are intended to spread fear and anger, and as a result, militancy, in the already-anti-Syrian Christians...
Post a Comment
<< Home