Sunday, April 10, 2005
"Anti-Semitism"
"The demonization of Israel, or vilification of Israeli leaders, sometimes through comparison with Nazi leaders, and through the use of Nazi symbols to caricature them, indicates an anti-Semitic bias rather than a valid criticism of policy concerning a controversial issue." - Report on Global Anti-Semitism, Bureau of Democracy (misleading), Human Rights (misleading), and Labor
No! Really?!?!? Shucks!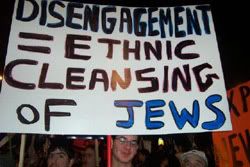 That makes those land thieves what - self-hating Jews?