Friday, April 29, 2005
Winds of change haven't touched the media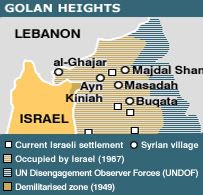 I am sure many of you heard or read about the "kidnapping" of two supposedly "Israeli" citizens from the supposedly "Israeli" village of Al Ghajar. I was curious today (as always), so I ran a

search

on Google News and came up with 3 links on that report, the first from

the

left-leaning Ha'aretz

, the second from

Jerusalem Post

, and the third from

The Daily Star

. If we are to believe the three mentioned articles, Al Ghajar village is located in "Israel"-proper. After all, none of the three papers, not even the Lebanese one, mentions that Al Ghajar is a village in the occupied Golan Heights. According to these unbiased and freedom-loving newspapers (the last bastions of truth and freedom in the Middle East) - at least when it comes to the self-proclaimed

left-leaning

Ha'aretz and the freedom-loving (and therefore [???] "opposition"-supporting) Daily Star - Golan Heights belongs to... "Israel". Let us trumpet that one more time, folks. Yes, Golan Heights has historically belonged to the children of Zion. Hey Bush, read the Bible. Home at last, we shall not be moved. I guess no winds of change for the media, then.

Map source:

BBC
Comments:
You are correct. Even the most "extreme" left believes in "Israel's" "right to exist". The question of "Israel's" right to exist was posed to Prof. Chomsky by a self-proclaimed leftist, and Chomsky chuckled and said, "States don't have the right to exist". I mean, I am not a big fan of Chomsky (he is STILL too much of a politically correct leftist - he likes to call himself a realistic person and argues that based on that realism, Palestinian refugees will never return to Palestine/Israel... now I would beg to differ, but my voice will most probably go unheard, as it is too politically incorrect even for the so-called realists out there), but he hit the nail right on the head. The politically correct stance of the established left has forced me to relinquish the title of "leftist". I no longer identify as a leftist. I identify as a pro-Palestinian. And why the hell not? What the hell is wrong with being pro-Palestinian? I say it without any embarassment. Yes, I am biased, but "Israel's" actions call for such a bias. The argument against pro-Palestinian bias is like saying that those who condemn deniers of the Jewish Holocaust are biased against the Nazis....
I don't know if Lawrence of Cyberia is a she; maybe it is. I don't know him/her personally. I got introduced to his/her blog from RafahPundits and Jewssansfrontieres, if I remember correctly. Anyway, there are a lot of good blogs out there. I found a couple of them recently, and they make up for the fact that Lawrence of Cyberia doesn't update his/her blog that frequently.
Do you read Prof. As'ad Abu Khalil's (aka Angry Arab) blog?
Post a Comment
<< Home