Saturday, May 07, 2005
On the occasion of his return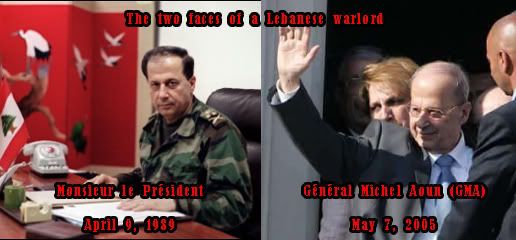 From Robert Fisk's
Pity the Nation: The Abduction of Lebanon
:
I had met Aoun during his 1983 battles at Soukh al-Gharb, but when I saw him again in 1989 he seemed much smaller. His shell-proof bunker used to be part of the presidential palace's underground carpark. A short man in American combat fatigues moved towards me, right hand outstretched in an artificial, slightly embarassed way. There were dark bags under his eyes. He had been directing his artillery all night. His face was white and unhealthy -- he had already been living in his bunker for six weeks -- and he had the appearance of a mole emerging from a long sleep, his eyes bloodshot and blinking. There were loyal
aparatchiks
everywhere, in blue suits and ties, murmuring 'Monsieur le président' in Aoun's ear. The Napoleon of Lebanon was about to speak from his underground garage.
It was part monologue, part history lesson. Aoun wanted a westernized Lebanon, 'like France, like America' [1]. He could not see why this might not appeal to the Muslims, whom he also claimed to represent. When I suggested that his 'war of liberation' against Syria would turn into a disaster, he lectured me on how not one war of liberation had ever been lost. 'History shows this,' he said with a gleam of satisfaction. 'Look at the French Marquis in the Second World War. Look at the Algerian resistance to te French, look at the Vietcong.' So what were his plans, I asked? 'Plans? What plans?' Well, plans for the war, for the future of Lebanon. Aoun was frowning now. 'I am a soldier. I want the liberation of my country.'
Yet his war was to bring the death of at least a thousand men and women. No 'liberation' was to be vouchsafed to anyone. Moreover, Aoun himself was to rule his tiny, dangerous fiefdom with growing dictatorial powers [2], prohibiting Lebanese newspapers which disagreed with his policies, banning journalists who did not write what he wanted to read, acquiescing in the public humiliation of the head of the Maronite Church in Lebanon; the old patriarch, Nasrallah Sfeir, was forced to kiss the general's portrait by dozens of jeering Aoun supporters [3]. Aoun remained silent when the homes of Lebanese MPs who opposed him were blown up with explosives. Life in east Beirut was becoming more like life in Baghdad than a 'free' Lebanon. (p. 633-34)
When Saddam Hussein invaded Kuwait on 2 August, Aoun was one of the few personalities in the Arab world to remain silent. Neither condemnation nor approval issued from his bunker. But he continued to criticize America's interference in Lebanese affairs; his supporters had long ago forced the US embassy in east Beirut to close. [4] (p. 643)
1 Well, following the "opposition's"
logic
, he ought to have moved to USA or France right then, without even being forced to.
2 People tell me "well, that was so many years ago, maybe he's changed". But in Lebanon that's easier said than done. The country might change but the people never do. The nature of the Lebanese is a sad affair to be honest.
3 Hooligans?
4 I wonder why
Mr. Aoun
Monsieur le président never criticised Iraq's interference in Lebanese affairs; I wonder why
he
He (the God that Patriarch Sfeir should've worshipped) doesn't criticise America's interference in Lebanese affairs NOW. Perhaps because he's a hypocrite?
Comments:
Marsden,
We all know by now that how much Mr. Fisk is biased. I guess he has a personal problem with the General Aoun. In any case, truth to be told, General Aoun was the only person opposing the Syrian occupation when everybody, including the USA, were making dirty deals with the president Hafez Assad. It was a general in army uniform teaching the world about "Democracy", ironic isn't it?
Second, yes he made alliance with Saddam, only to liberate his country. Saddam at the time was enemy of Syria and "the enemy of my enemy is my friend".
Third, Mr. Fisk can accuse the General with anything he wants, that is freedom of expression, but he can't change the facts that this guy is the only person with the highest integrity in Lebanon, even in the arab world. Last, the wind of change are coming to Lebanon, whether you or Mr. Fisk like it or not, your narrow minded thinking cannot stop it. We will take democratic values from the West and mold them to our way and we, the Lebanese, will be the pioneer of the middle eastern democracy. We will contaminate the whole Arab world with it and we will offer a better future for our children.
Post a Comment
<< Home